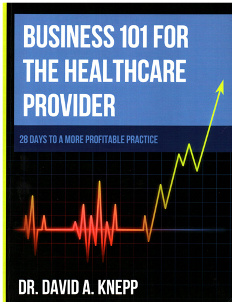 INTRODUCTION…
Business 101 For The Healthcare Provider, although written for the doctor of chiropractic, is also useful to just about every healthcare provider who owns a practice or even those who work in today's healthcare system as employees or independent contractors.
28 days to a more profitable and effective practice

Learn how to run an office without loathing the tasks

Start with a system that will help harness your "intent"

Lower expenses, see more patients and collect more for your time
Valuable, foundational business know-how, useful for a start-up practice or one that is already established. The success of Dr. Knepp's practice attests to the efficacy of his business model as taught in this didactic self-help course."                         — Maria T. Larsen, D.C.